RCL utilizes the original steel structure to build our customers a brand new, upgraded RCL C-15 NextGen Loader with significant carbon emission reduction at 30-40% cost savings.

Call 888-989-2399 for Custom Pricing on this and all RCL Equipment.


A new Cummins 3.8 QSF diesel engine is Tier 4 compliant and standard on all RCL C-15 NextGen Loader models. In addition, RCL has pioneered the use of lithium-ion power plants in GSE.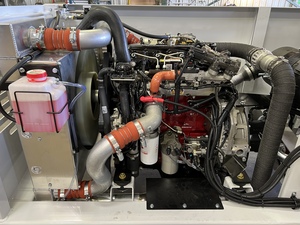 Wear Strips, Lift Component, Conveyers: Brand new HeliRoll™ assemblies, shafts, sprockets, and chains are standard on every loader. T-1 tool steel is utilized in wear strips. New pins, bearings, and bushings are part of our process.

Mast Assembly: Mast assembly is remanufactured with new UST lift chains, lock valves, and hoses.
American made UST brand primary and secondary chains


New hydraulic hoses, cartridge, and lock valves

New shims, rub locks, bushings, and hardware

Resealed primary and secondary lift
Electrical: All new electrical is standard. New wire harnesses, relays, and timers are standard. Wires are sequentially numbered.

Manifolds: New, improved lift and propel manifolds feature high strength ASTM 2024 aluminum with 100% new replacement valves.

Parker Tough Cover: Parker Tough Cover hydraulic hoses and adapters are used in all RCL C-15 NextGen remanufactured loaders.